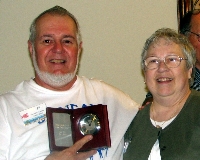 General Membership Meeting
Juneau Family USA Reunion – Diamondhead, MS
Friday, June 10, 2011

The membership meeting was held in the Emerald Room of Diamondhead Country Club, Diamondhead, Mississippi. The meeting was called to order by Jerald Juneau, Reunion Chairman, at 9:10 a.m. The recitation of the Pledge of Allegiance was led by Col. Linus Juneau.

Opening remarks were made by Jerald Juneau, Reunion Chairman and a prayer was recited by Paula Juneau King. The first order of business was the introduction the present Board of Directors. We then took a few minutes to allow everyone present to introduce themselves and to tell us where they were from.

The minutes of the last business meeting held in Wells, Maine on June 24, 2006 was presented by Rachel Juneau, Secretary. The minutes were accepted by Lisa Mohr of Baton Rouge and seconded by Susan Lambert also from Baton Rouge, LA.

A treasurer's report was read by Gerard Juneau indicating the income and expenses to date. The Treasurer impressed on the membership the importance of paying dues every year and supporting the organization. It was impressed by the treasures how important it is to work together and encouraged Juneau Family USA to move forward. The report was accepted by Norma Juneau of Austin, TX and seconded by Paula King of Napolionville, LA.

The site of the next family reunion, to be held in 2014, was the cause of a huge debate. Many spoke and had excellent ideas.
1. Jim Juneau of Dripping Springs, TX asked us to consider a reunion in a historical area and update the genealogy.
2. Monique Kaczmarek of Mesa, Arizona suggested Champlain, New York.
3. Alison Juneau of Northborough, MA impresses on us the importance of our website to keep the family
members informed.
4. Shirley Juneau Couret of New Orleans, LA said we could keep our family history by sharing old pictures. Gerri
Settoon also commented on the importance of our history.
5. Other places mentioned: Texas, Reno, NV also to consider a family location where children as well as parents could enjoy the area as well as the reunion.
6. Dick Juneau of Baton Rouge, LA suggested organizing a group to look into different places for our future e
reunion. He said "it is now critical for the group's future to find a good place that would also draw Canadian interest."
A motion was put to a vote: To establish a committee researching places for a reunion. This Committee would
come up with a couple recommendations within a years' time. The motion was accepted by Paula Juneau King from Napolionville, LA and seconded by Norma Juneau of Austin, TX. The motion passed.

A committee was established headed by Paula Juneau King. This committee will report to the Board of Directors with suggestions for the 2014 reunion location by June 2012.

At the last membership meeting it was voted to allow Beryl Smith and Jerald Juneau to talk to Pat Juneau about the by-laws.
The Juneau Family USA By-Laws were presented to the membership for discussion and approval. A motion to approve the by-laws was made by Merlin Juneau, Baton Rouge, L and seconded by Jim Juneau, Dripping Springs, TX. The motion passed.

Jerald Juneau presented the auditors report. A verbal report by Joyce Carol Pierson, from Seabeck, WA was submitted to
the reunion chairman. All income, expenses and bankbook were in balance. This verbal report was accepted by Jim Juneau, Dripping Springs, TX and seconded by Shirley Juneau Couret, New Orleans, LA.

It was suggested by the auditor that a committee be set up preferably three members (one pass BOD member, one present DOD member, and one non-board member) to check receipts, expenses and invoices therefore any questions by membership would be addressed directly by the Audit Committee. We should consider incorporating and setting up a separate checking account for Juneau Family USA.

The new Board of Director's term will last three years. It will start on June 10, 2011 and end June, 2014. The following people were nominated by the Nominating Committee:
Jaime Juneau Griggs
Merlin Juneau
Mark "Trey" Juneau
Gerard Juneau
Rachel Blais Juneau
Paula Juneau King
Joyce Carol Pierson
Alfred "Al" Peralta
Richard "Dick" Juneau
And Canadian Liaison: Emile and Suzanne Juneau
Motion passed by acclimation.

A letter by the Governor or the State of Mississippi was read by Jerald Juneau. It stated:

Dear Friends:

As Governor or the State of Mississippi, it is my pleasure to congratulate and welcome you all to the Diamondhead Resort in beautiful Diamondhead¸ MS for the international Juneau Family Reunion. I hope you will have an enjoyable and memorable visit.

Families are the foundation of our society, and taking this opportunity to celebrate and strengthen your own is certainly time well spent.

In Diamondhead and the Gulf Coast area, as all over Mississippi, we are proud of our distinct culture
and heritage. We have many wonderful sights and unique experiences to offer.

I wish the Juneau family generations of success and happiness.

Again, welcome to Mississippi and have a wonderful time!

Sincerely
Haley Barbour

A short time was taken to announce those members who passed away, were in the hospital, are ill, or any other announcements.

Those who died: Henry Paul Juneau
Bobby Juneau 2/20/11
Oliva "Joe" Juneau
Are ill: Paul Settoon – lymphoma
Joe Juneau
Gene Juneau
Jacques Juneau
Beryl Juneau Smith
Linus Juneau
Newly Married: Al Peralta
Kathryn Juneau Golden
New Baby Jaime Juneau Griggs

The meeting was adjourned at 11:15 a.m. with a motion from Jim Juneau and seconded by Gerri Settoon.

- - - - - - - - - - - - - - - - - - - - - - - - - - - - - - - - - - - - - - - - - - - - - - - - - - - - - - - - - -

The Board of Directors met for a short time in the adjacent room to elect its officers, which are as follows:

President Richard "Dick" Juneau Louisiana
Vice President Jamie Juneau Griggs Georgia
Secretary Rachel Blais Juneau Maine
Treasurer Gerard Juneau Maine
Al Paralta Mississippi
Merlin Juneau Louisiana
Joyce Pierson Washington
Paula Juneau King Louisiana
Mark Juneau Louisiana
Canadian Liaison Emile& Suzanne Juneau Roxboro, CA

The BOD voted to increase the Juneau Family USA dues to $20.00/year effective June 1, 2012.
Motion by Gerard Juneau and seconded by Paula Juneau King.







---
-------------------------------------------------------------------------------------------------------------------------------------------------------------
General Membership Meeting
Juneau Family Reunion –Wells, Maine
Saturday, June 24, 2006

The membership meeting was held in the York Room of Village by the Sea, Wells, Maine. It was called to order by Jerald Juneau, Interim President at 9:07am after recitation of the Pledge of Allegiance.

The first order of business was the introduction the Interim Board of Directors. Also introduced was Pierre Juneau, former President of CRTC and of CBC/Radio-Canada and his grandson, Matthieu Juneau, President of the Canadian Juneau Association. A few minutes was taken to allow everyone present to introduce themselves and to tell us where they were from.

A treasurer's report was distributed showing the income and expenses to date. Most important was the discussion of future funding sources including:
1. Membership dues – to collect $15.00 per year per family.
2. Contributions, donations and memorials.

Pierre Juneau said it was important for Canada and the United States to work together and encouraged the Juneau Family
to move forward.

The site of the next family reunion was the cause of a huge debate. Many spoke and had excellent ideas.
1. Gerard Juneau from Maine suggested an Alaskan tour ending in Juneau, Alaska. Alaska will celebrate its
50th Anniversary of Statehood in 2009. Leo Juneau from Tennessee read the tour guide description of the Wilderness Adventure suggested by Gerard. Also commenting for Alaska was Joe Juneau from California.
Kathy Vines from Arizona said the younger Juneau family members couldn't afford Alaska. Dick Juneau
from Louisiana suggested looking for another place if not enough would go to Alaska. Pierre Juneau from Canada
said the first meeting is very important and should attract a large number of people in the United States to please consider a place close to Canada. André Juneau also from Canada said location is 105% and as proposed by Pierre, the next reunion should be somewhere that would attract many family members. Older people would not consider going to Alaska.
2. Milwaukee was suggested by Dick Juneau from Louisiana and said the Board would work with people in Wisconsin to make it happen.
3. Other places suggested was Las Vegas by Joanne Sandell from New Hampshire, Washington, DC by Dick Juneau from Louisiana, Canada by Sara Radcliffe from Wisconsin, and Kansas by Maggie Brennan from Wisconsin.
4. Matthieu Juneau from Canada suggested we look into a historical place relevant to the Juneau Family and a place where most people could gather. He also suggested to look into Kansas where some Juneau family members
settled.
5. Maggie Brennan expressed the need to work on the next generation getting them interested in the Juneau history and genealogy. We need to keep this organization going.

Annette Snyder from New York proposed a resolution: "All meetings should be held in a historical Juneau area". It was moved by Rene Juneau from Rhodes Island and seconded by Gerard Juneau from Maine. The resolution
passed.

Matthieu Juneau gave the Board a copy of the Canadian by-laws. It was suggested by Dick Juneau it should be stated in the by-laws that the member-ship meet in a historical Juneau site. Billie Juneau from California suggested we consult Pat Juneau, a lawyer
from Louisiana about our by-laws. Beryl Smith and Jerald Juneau will speak with him. Maggie Brennan suggested we keep the by-laws simple. Sandy Sandell from New Hampshire suggested we should incorporate to protect the members of the Board of Directors. Pierre Juneau from Canada suggested to put in the by-laws that the American members in the Canadian Association or the
Canadians in the United States Association who will be the minority should have a right to vote. Also suggested by Kathy Vines from Arizona that it should be specified that the wives of Juneau's can be members of the Association.

A motion was put to a vote to "Authorize Beryl Smith and Jerald Juneau to talk to Pat Juneau about the by-laws and to incorporate". It was moved by Kathy Vines, Arizona and seconded by Dick Juneau, Louisiana. The motion
passed.

The new Board of Director's term will last three years. It will start on June 24, 2006 and end June 27, 2009. Sara Radcliffe, Wisconsin asked how many on the Board and Dick Juneau, Louisiana replied as many as possible. So far the interim Board will
stay on and any person who wants to volunteer will be accepted. Jim Juneau from Texas was nominated to be on the Board in addition to other members.

A motion to "Add volunteers to the Board of Directors with the present members" was presented by Billie Juneau from California and seconded by Joanne Sandell from New Hampshire.

Kathy Vines from Arizona asked that a list of names and addresses be available to everyone after it is compiled. Dick Juneau, Louisiana suggested that everyone register in the book provided so we will have updated information.

Leo Juneau from Tennessee volunteered to do a web site for the Juneau Family. He said it would take approximately three months and every member of the Association will be able to access the site. He will let us know the cost. Annette Snyder from New York asked if the approval of the by-laws could be on the website.

Sara Eldredge from Wisconsin thanked the Board for all the work that was done and Maggie Brennan from Wisconsin suggested
we bring family pictures to the next gathering to establish roots for all clans. Matthieu Juneau from Canada said some lines of the original 40 are extinct.

Pierre Juneau from Canada volunteered to do a draft of a pamphlet for the Juneau Family. This little leaflet could be handed out to new members to explain what the Juneau Association is all about. Sara Eldredge from Wisconsin volunteered to work with Pierre and to do the final brochure.

The meeting was adjourned with a motion from Joanne Sandell and seconded by Susan Lambert.

- - - - - - - - - - - - - - - - - - - - - - - - - - - - - - - - - - - - - - - - - - - - - - - - - - - - - - - - - - -

The Board of Directors met for a short time in the adjacent room to elect its officers, which are as follows:

President Rene Juneau Rhodes Island
Vice President Beryl Jane Smith Louisiana
Secretary Rachel Blais Juneau Maine
Treasurer Gerard Juneau Maine
Al Paralta Mississippi
Kathy Vines Arizona
Dick Juneau Louisiana
Cindi Juneau California
Matthieu Juneau Canada
Merlin Juneau Louisiana
Joanne Sandell New Hampshire
Sara Radcliffe Wisconsin
Jerald Juneau Louisiana
Jim Juneau Texas
Paula King Louisiana